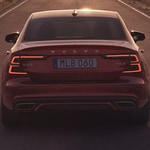 The Volvo S60 has become an incredibly popular mid-size luxury sedan. It seems to have many of the features today's modern driver wants and expects. Beyond that, passengers will be riding in comfort and style as well. It is time to take a look at one when you visit Underriner Volvo. Here are some performance features to check out.
One of the features that people seem to appreciate on the Volvo S60 is the addition of drive mode settings. You will have several different ones to select from. This will enable you to adjust how the vehicle handles for you depending on your driving habits and the road that you are on.
Another performance feature worth noticing is the availability of electric power steering. This has several settings to choose from as well, so you can further customize the way everything feels as you are driving. When you are ready to take the Volvo S60 on a test drive, just visit Underriner Volvo.