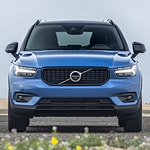 Looking for a top of the line compact SUV? Look no further than the very popular Volvo XC40 R-Design. The upscale style of the vehicle can't go unnoticed. The intricate focus on design has made this SUV a customer favorite. The new R-Design has given many a new appreciation for Volvo.
From the glossy black grill to the Black Stone roof, you will feel a sense of pride just looking at it. Others will definitely notice when you pull up to any event, wondering who's inside. The soft and durable Nappa leather created seats guarantee you a comfortable ride. With a choice from 18-20 inch rims, you're in charge of just how big you want to go.
Your new vehicle is waiting for you now. Stop by Underriner Volvo today to pick out your new smooth ride. We guarantee you leave feeling a sense of success.