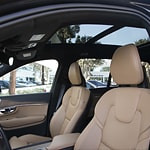 When Volvo makes its SUVs, it places a big emphasis on luxury, safety, and performance. Lately, most people have taken to the popular Volvo XC90 luxury SUV because of its surprising performance features. Here's why the XC90 is a performance leader.
All the power in an SUV is useless without the right transmission. That's why the XC90 comes standard with an advanced 8-speed Geartronic™ automatic transmission. This system is designed to provide you with the fastest and smoothest transitions from gear to gear for optimal performance.
To keep you on the road, the XC90 comes standard with start/stop technology. This system will turn off your engine when you are at a full stop. When you take your foot off the gas pedal, the XC90's powerful engine will turn itself back on. This will save you big when it comes to fuel efficiency.
Take a test drive of the new Volvo XC90 today at Underriner Volvo. We look forward to showing you what the XC90 has to offer.