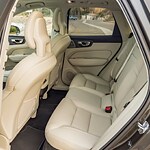 There are more and more compact luxury SUVs available these days. However, few can really match the popular Volvo XC60. That's because the XC60 offers one of the leading interiors of its class. Here's is a look at two top interior features on the XC60.
The XC60 offers a unique 9-ich vertically mounted center touchscreen. This touchscreen allows you to get a larger screen without compromising the design of the center console. For those who enjoy premium audio, the Volvo XC60 offers the Bowers & Wilkins audio system. This system allows you to enjoy your music in a way that you never thought possible in a compact luxury SUV. Overall, the XC60 excels when it comes to interior features.
We are proud to have a complete collection of the Volvo XC60. Take a test drive today at Underriner Volvo. We look forward to making you an attractive offer on the XC60 of your choice.